2018 Around the World 
This email is a little lengthy because I want to go over everything but I will keep it as brief as possible. I am going to try to go through topics chronologically. Please read all the way through and hopefully future emails will be much shorter leading up the event.
Donations for the Raffle
We would love anything, archery related or not, that you are willing to donate for the raffle. Whether you go out and buy something, have something or if you have a gift you got from someone and don't plan on using, we would be happy to take it off of your hands.
Please contact Erin or drop off items at clubhouse
ErinAzarfahimi@gmail.com
Work Parties
There will be a work party every Saturday leading up to the event. During the Polar Bear League the work parties will start at 11am with a great lunch thanks to Olivia and Bob at 1pm. With time constraints and the shoot around the corner we can use your help for as long as you can stay, even after lunch. After the Polar Bear league ends (starting the 31st) work parties will go back to normal and start at 8am.
Friday April 13th we can use all the help we can get as it will be the last day to get the entire course completely setup and ready to go.
There will be a special raffle for people who helped at these work parties leading up to the event and remember that you earn a credit towards your annual dues for every work party that you attend.
Club 3-D Championship
On Saturday April 14th (the day before the Around the World) we will have the Club 3-D Championship shooting the entire course that everyone will be shooting at the Around the World.
3-D Championship Flyer
Parking
On the day of the shoot we need everyone to park on Berry Street on in the parking lot on Berry Street.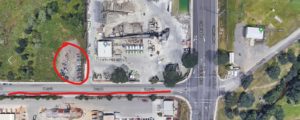 Day of the Shoot
Please arrive early. There will be breakfast at the main kitchen in the morning and lunch at all the stations. You are welcome to a meal during the day for your help. It would be preferred if you could get that before or after your shift but if things are slow and you have a chance you can grab something.
Please grab a vest so the shooters and other members can identify you.
If you have a radio feel free to bring it. Communication is always great but please keep chatter to a minimum. There are only a few people who should regularly talking on the radio. For everyone else it is to gather or relay information.
Cleanup
Cleaning up at the end of a long day can be a chore to say the least. For those signing up for AM shifts and mainly those who elect to help with parking, we need anyone who is able to come back to help with cleanup at the end of the day. There are some people that I know will be there to help cleanup. Those people are the same people who will be there ALL DAY LONG and not just a shift. they will be tired and they need as much help as possible please.
If you have any questions or input feel free to send me an email.
If you know places or people who might be interested in the shoot print up a copy of the flyer and help us get the word out or put it on social media.
If you know people or local business that might donate to the raffle feel free to pass the info to Erin or try to get something and I will make sure that I give their business a shout out for their contribution.