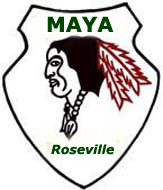 Email Dated 3/22/2017
Maya Archers,

We have implemented a new way in accepting guest
fees now. We have incorporated the liability release on a printed
envelope that can be sealed with the guest fee. In addition to
the guest name, signature, and date; we now require the members
name and membership ID associated with the guest to be recorded
on the release envelope. You will find the guest fee envelopes
in the same place as before.

We hope this will streamline the process and make
it easier for members bringing guests.  As always the envelope shall
be deposited in the mailbox mounted on the deck.

Thanks,
Dave Baker
Copyright © 2017 Maya Archers of Roseville, California
All rights reserved.
Email distribution for Maya Archers members.
Our mailing address is:
Maya Archers of Roseville, California
P. O. Box 1072
Roseville, CA 95678